Improve the Look and Boost the Value of Your Anne Arundel County Home
Renovations to Increase Your Home's Curb Appeal
Is the exterior of your Anne Arundel County, MD, lacking that "wow!" factor? Are you looking to enhance the visual appeal of your property? Investing in exterior renovation projects is an excellent way to boost your home's curb appeal, increase its value, and make a lasting impression on visitors and if you plan on selling, potential buyers. 
In this blog post, we will explore some fantastic exterior renovation ideas that will revitalize the look of your property, create a welcoming atmosphere, and make your home stand out from the crowd. Whether you're planning to sell or simply want to enjoy a more aesthetically pleasing home, these projects are sure to make a significant impact.
One of the most effective ways to transform the look of your home is by refreshing or replacing the siding. Weather-worn or outdated siding can make your property look tired and dull. Choose modern, durable materials in colors that complement your home's architectural style. With various options available, such as vinyl, fiber cement, and wood, you can find the perfect siding to suit your needs. 
If you're looking for a more budget-friendly option, consider adding a fresh coat of paint. Choose a color scheme that complements the surrounding environment and the architectural style of your property. Crisp whites, warm neutrals, and earthy tones are popular choices that provide a timeless and inviting appearance. A well-executed paint job can instantly breathe new life into your home.
The entryway is the gateway to your home and sets the tone for the rest of the property. Consider giving your door a fresh coat of paint with a pop of color that complements your home's exterior. If your front door is old and worn out, replace it with something that's more stylish and energy-efficient. A modern steel door or a classic wooden door with decorative glass panels can add character and charm to your home's facade. 
Adding decorative elements such as new house numbers, a stylish mailbox, and outdoor lighting fixtures can instantly elevate your home's curb appeal.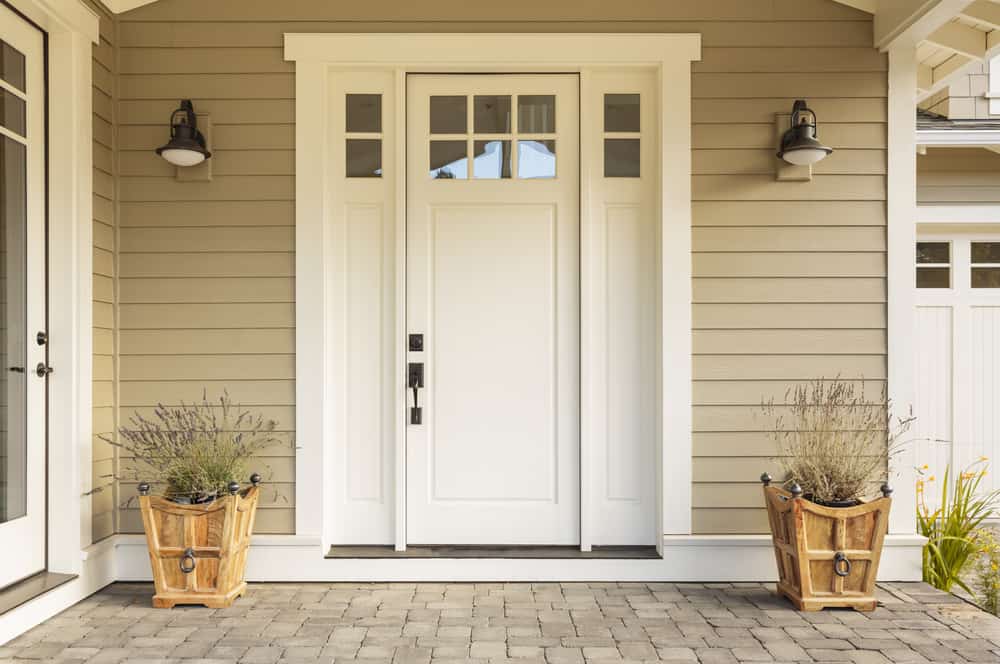 Give Your Landscaping a Makeover
A beautifully landscaped yard can drastically improve your home's curb appeal. Incorporate a mix of colorful flowers, well-manicured shrubs, and lush green lawns to create an eye-catching and inviting outdoor space. Ensure that your landscaping complements the style of your home and enhances its overall appearance. 
In Anne Arundel County's climate, opting for native plants can provide long-term benefits, as they are better adapted to the local environment. Additionally, adding hardscaping elements like a stone walkway or a cozy patio can make your outdoor space more inviting.
Outdoor lighting not only enhances the safety and security of your home but also adds a touch of elegance to its exterior. Strategically placed exterior lighting can illuminate your home's best features and create a warm, welcoming ambiance Install pathway lights, accent lighting for architectural features, and well-placed spotlights to highlight your landscaping. 
Choose fixtures that complement your home's architectural style and add a touch of elegance to your property. With the right lighting, your home will make a stunning impression during the day and create a warm, inviting ambiance at night.
Home Remodeling Contractor - 34 Years of Experience
Replacing old windows not only improves energy efficiency but can also give your home a modern and sophisticated look that will greatly enhance the overall aesthetic appeal of your home. Choose windows that complement your property's architectural style, provide adequate ventilation, and allow natural light to flow inside. Additionally, energy-efficient windows can help reduce utility bills and increase the value of your home.
Contact Madrid's Contracting Today!
Transforming your home's exterior through renovation projects can significantly enhance its curb appeal, create a stunning visual impact, and add significant value to your property. Whether you're planning to sell or simply want to improve its appearance, investing in exterior renovations is a wise decision. In Anne Arundel County, MD, where first impressions matter, these upgrades can make your home the envy of the neighborhood.
If you're ready to take the next step in boosting your home's curb appeal, contact Madrid's Contracting today. With their expertise and experience in remodeling, we can help you bring your vision to life and turn your home into a true masterpiece.