Transform Your Anne Arundel County Kitchen
2023 Kitchen Remodeling Trends
Is your current kitchen tired, outdated, and dilapidated? Does it no longer speak to your style or function for your needs? If so, you might be considering a kitchen remodel. As the heart of the home, the kitchen should be both functional and stylish. A well-designed and up-to-date kitchen not only enhances the usability of the space but also adds value to your home.
If you're looking for inspirational ideas, in this blog post, we'll share some of the hottest kitchen remodeling trends for 2023. Whether you're planning a complete renovation or just a few updates, these kitchen trends will inspire you to create a stylish and functional culinary haven right in your home.
Open Concept and Multifunctional Spaces
Open-concept floor plans have been on-trend for a while now, and the trend doesn't show any signs of stopping. In fact, it continues to be a popular choice for kitchen remodeling in 2023 among Anne Arundel County homeowners. Creating an open layout can make your kitchen feel more spacious and inviting, allowing seamless interaction with family and guests while cooking or entertaining.
In addition to an open design, multifunctional spaces within the kitchen are gaining popularity. From incorporating a small workstation or a mini bar to adding a cozy breakfast nook, these multifunctional areas will add versatility to your kitchen.
Open Shelving and Minimalist Design
Open shelving and glass-front cabinets are making a strong comeback in 2023, offering a clean and airy look to kitchen spaces. Anne Arundel County residents are embracing this trend as it allows them to display their kitchenware and decorative items while creating a sense of openness and minimalism. Open shelving is not only visually appealing but it will also encourage you to keep your kitchen well-organized and clutter-free. 
Additionally, minimalist designs are becoming a preferred choice for kitchen remodeling. Streamlined cabinetry, uncluttered countertops, and hidden storage solutions contribute to a sleek and contemporary appearance.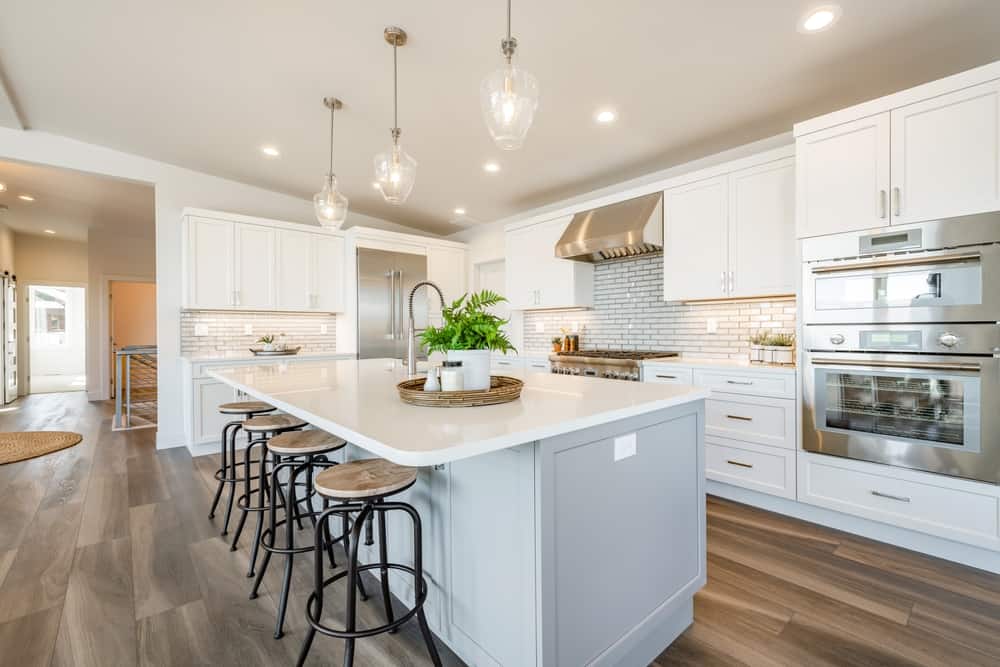 Warm Tones and Natural Finishes
Neutral and warm color palettes are trending in 2023, bringing a sense of comfort and coziness to kitchen spaces. Earthy tones like terracotta, beige, and warm grays are widely favored for cabinets, backsplashes, and walls.
Natural finishes are also gaining popularity, with matte surfaces and raw textures being incorporated into kitchen designs. Anne Arundel County homeowners are appreciating the organic and authentic feel these finishes bring to their kitchen spaces.
Lighting can make or break the ambiance of a kitchen. In 2023, statement lighting fixtures have taken center stage as homeowners seek to add a touch of luxury and personality to their kitchens. Pendant lights with bold designs, chandeliers over the island, and sleek LED strips under cabinets are just a few options that can elevate the overall aesthetic of your kitchen.
Sustainability and Eco-Friendly Designs
With increasing awareness of environmental issues, sustainable kitchen remodeling is becoming a significant trend for 2023. Homeowners in Anne Arundel County are opting for eco-friendly materials such as recycled glass countertops, bamboo cabinetry, and energy-efficient appliances. Incorporating sustainable design elements not only reduces your carbon footprint but also adds a touch of nature to your kitchen, creating a warm and inviting space.
Technology has been revolutionizing our lives, and the kitchen is no exception. In 2023, smart kitchen technology is set to take center stage. Imagine having a voice-activated assistant that can turn on lights, preheat the oven, and even make coffee – all without lifting a finger. Smart appliances like refrigerators with built-in touchscreens and cameras will also gain popularity, allowing you to check your grocery supplies remotely or get recipe recommendations based on the ingredients available..
Home Remodeling Contractor - 34 Years of Experience
Mixed Materials and Textures
Gone are the days of monotonous kitchen designs. In 2023, it's all about mixing materials and textures to create visual interest. Consider combining natural stone countertops with sleek stainless steel appliances or adding a touch of warmth with wooden accents. These contrasting elements can elevate the overall look of your kitchen while making it more inviting.
Create Your Dream Kitchen with Madrid's Contracting
As you plan your kitchen remodeling project for 2023 in Anne Arundel County, consider these top trends to create a space that is both functional and aesthetically pleasing. To turn your dream kitchen into reality, trust the experts at Madrid's Contracting. With our experience and commitment to excellence, we can bring your vision to life and transform your kitchen into the heart of your home. Contact Madrid's Contracting today for all your remodeling needs!
Home Remodeling Contractor - 34 Years of Experience